Roger Federer vs Stan Wawrinka ( WON )
Roger Federer vs Stan Wawrinka
Tuesday June 4, 2019 | 15:00
Two of the greatest players of all time, Rafael Nadal and Roger Federer, both former champions, play feature matches in the quarterfinals of the 2019 French Open. Federer has played well in his return to clay court tennis and Roland Garros, and now faces his countryman and former FO champion Stan Wawrinka who has battled hard to get to this point. Nadal faces Japanese #1 Kei Nishikori who is still hungry for his first Grand Slam title and will be sure to give his best against the king of clay. Jim Smith, Harsh Bhoot, Steen Kirby, and Yesh Ginsburg offer their predictions on these matchups.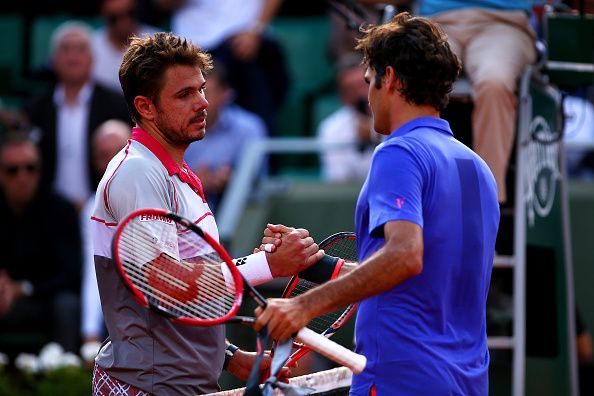 The two have played each other twenty five times so far in a rivalry that has been heavily dominated by Federer who has lost only three of those matches. However, their rivalry on clay has been much more even.
The two have played seven times on clay and Stan has been able to snatch three wins. He may not have won a single match on other surfaces in eighteen attempts, but on clay he is almost an equal to the great Federer.
What will give Stan even more self-belief and confidence going into this match is that his last win over Federer came at the same venue and at the same stage – the 2015 French Open quarter finals, during his epic run to an unlikely French Open title, where he defeated Novak Djokovic in the finals.
After a long and laborious journey back from injury, Stan has looked closer to his fighting best in this tournament. He is one of those rare players who elevates his game on the biggest stage, i.e. the grand slams and his much better grand slam record in comparison to his performance at the Masters level is a testimony to that.However, unlike Stan, Federer has not yet played a single seeded player and this sudden rise in the quality of his next opponent may put him off balance. If Stan can manage to hold off Federer early in the match, he will certainly be in with a chance. The longer the match goes, the better the chances of Stan.
Handicap ( +4,5 To Wawrinka ) @ 1,78